Class Names
Influential Children

We have chosen these inspirational children to be our class names as they have achieved amazing things and have changed the world in a positive way. They have overcome disabilities and prejudice, improved the standard of our lives, challenged world leaders and created some wonderful inventions. We remind ourselves of their achievements so that we know we can be anything we choose to be – no matter what our age, gender, ability or culture!
Greta Thunberg - 03/01/2003
'We are going to change the fate of humanity, whether you like it or not.'
Greta Thunberg is a Swedish environmental activist on climate change whose campaigning has gained international recognition. In late 2018, at the age of 15ys, Thunberg began the school climate strikes and public speeches for which she has become an internationally recognised climate activist. On 29 October 2019, Thunberg was awarded the 2019 Nordic Council Environment Prize, she declined this award stating that the climate movement needed people in power to start to listen to science and not awards.
Malala Yousafzai – 12/07/1997
'All you need is one child, one teacher, one book and one pen can change the world.'
Malala Yousafzai is a Pakistani activist for female education and the youngest Nobel Prize laureate, at the age of 17yrs. She is known for human rights advocacy, especially the education of women and children in, northwest Pakistan, where the local Taliban had at times banned girls from attending school and attempted to take her life. Weeks after the attempted murder, a group of fifty leading Muslim clerics in Pakistan issued a fatwā against those who tried to kill her. The Taliban was internationally denounced by governments, human rights organisations and feminist groups. Following her recovery, Yousafzai became a prominent activist for the right to education.
Boyan Slat – 27/07/1994
'When talking about environmental issues in general a common response is, well that's a long way off, that's for our children to worry about. HELLO, HERE I AM.'
Boyan Slat is a Dutch inventor and entrepreneur. A former aerospace engineering student, he is the CEO of The Ocean Cleanup. In 2011, at 16yrs old, Slat came across more plastic than fish while diving in Greece. He decided to devote a high school project for deeper investigation into ocean plastic pollution and why it was considered impossible to clean up. He later came up with the idea to build a passive system, using the circulating ocean currents to his advantage. Slat founded the non-profit entity The Ocean Cleanup, of which he is now the CEO The group's mission is to develop advanced technologies to rid the world's oceans of plastic.
Claudette Colvin – 05/09/1939
'I knew then and I know now that, when it comes to justice, there is no easy way to get it. You can't sugarcoat it. You have to take a stand and say, 'This is not right.'
Claudette Colvin was a pioneer of the 1950s civil rights movement. On March 2, 1955, she was arrested at the age of 15 in Montgomery, Alabama, for refusing to give up her seat to a white woman on a crowded, segregated bus. Claudette was arrested and her trial went to court. The case went to the United States Supreme Court on appeal by the state. Three days later, the Supreme Court acknowledged the order to Montgomery and the state of Alabama to end bus segregation – the Montgomery bus boycott was then called off.
Anne Frank – 12/06/1929
'How wonderful it is that nobody need wait a single moment before starting to improve the world.'
Born a German national, during WW2 she lost her citizenship in 1941 and became stateless. By May 1940, the Franks were trapped in Amsterdam by the German occupation of the Netherlands. As persecutions of the Jewish population increased in July 1942, Anne at the age of 13, went into hiding with her family in some concealed rooms behind a bookcase in the building where Anne's father worked. From then until the family's arrest by the Gestapo in August 1944, she kept a diary she had received as a birthday present, and wrote in it regularly. She later died in a concentration camp. After the war ended her father was presented with her diary and a bundle of loose notes. Otto Frank later commented that he had not realised that Anne had kept such an accurate and well-written record of their time in hiding. It is one of the world's best known books and has been the basis for several plays and films.
Louis Braille - 04/01/1809
'Live without seeing, but be what you are.'
Louis Braille was a French educator and inventor of a system of reading and writing for use by the blind or visually impaired. His system remains virtually unchanged to this day, and is known worldwide simply as Braille. Blinded in both eyes as a result of an early childhood accident, Braille mastered his disability while still a boy. He excelled in his education and received a scholarship to France's Royal Institute for Blind Youth. While still a student there, he began developing a system of tactile code that could allow blind people to read and write quickly and efficiently. He presented his work at the age of 15 yrs and has since been adopted worldwide.
Easton LaChappelle – 26/09/1996
'It is my mission to use technology to make prosthetics more accessible to those who need them.'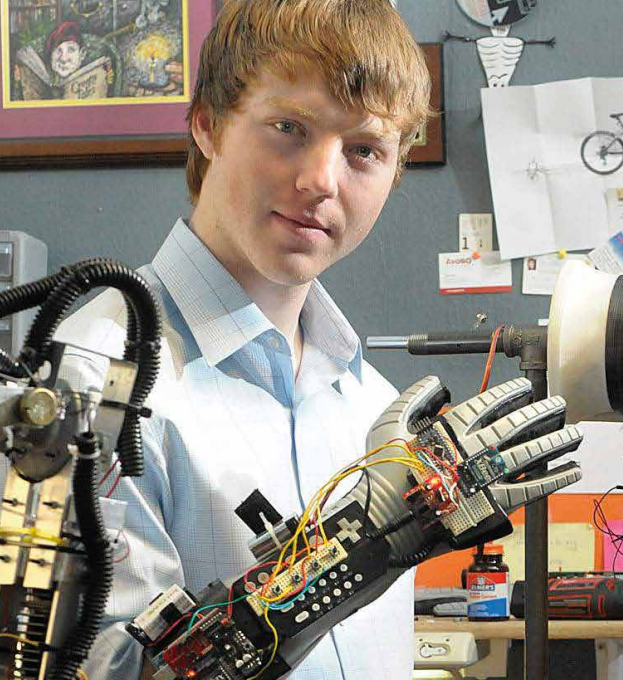 Easton LaChappelle is a 21-year-old robotics engineer living in Colorado. He's changing the world by 3D-printing advanced prosthetics and making them accessible and affordable for people all around the world. The first prosthetic arm he built was made from Lego. Easton who take apart everything when he was little — he had so much curiosity about how things worked. He loved creating and having the freedom knowing that there's really no right or wrong way to make something. Easton LaChappelle founded his company Unlimited Tomorrow, at the age of 17. Since then, he's been able to work with amputees around the world to learn what makes an ideal prosthetic and build a device that caters to a person's needs.
Marley Dias - 03/01/2005
'People say, 'Dream big!' - but you have to think about the logistics. It's not just coming up with a great idea; it's how you can sell or market or promote that great idea.'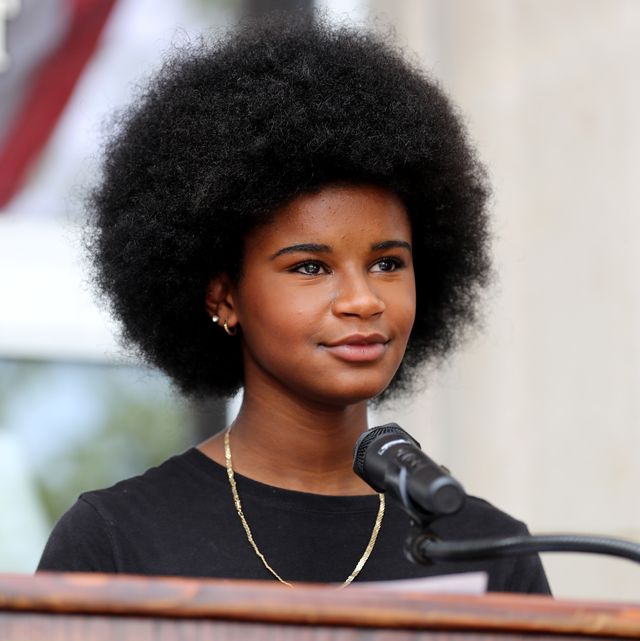 When Marley Dias was 11 years old, she was a voracious reader. But she was sick of the books she was being given in school because, as she said at the time, they were all about white boys and their dogs. And so, she set about changing that. So, in November 2015, Marely Dias launched a campaign called #1000BlackGirlBooks. Her goal was simple: collect and donate 1,000 books that feature black girls as the main character. Today, Dias has accumulated more than 9,000 books and has landed a book deal of her own. The story went viral and was picked up by media outlets around the world as well as bloggers, schools, youth-focused organizations and millions of individuals who wanted to participate in the project. Marley has collected over 13,000 books to-date. Marley has spoken at the White House's United State of Women alongside Michelle Obama and Oprah, The Forbes Women's Summit, United Nation's Girl Up, Inbound, CEO Action for Diversity and Inclusion, the Social Innovation Summit and several others. Marley was recognized by TIME, as one of the 25 most influential teens in 2018.
Billy Monger – 05/05/1996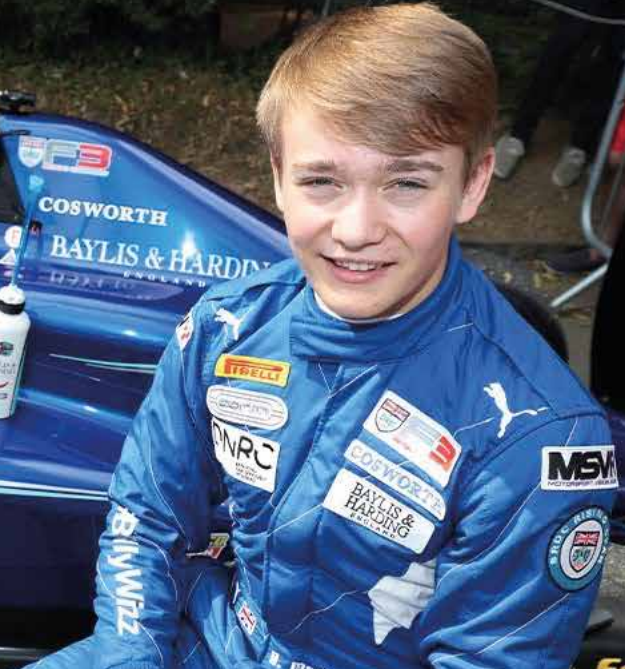 'I keep going and I make it work.'
Billy Monger is a British racing driver who raced in British Formula 4 Driving in 2016 and 2017 at the age of 20. He is also referred to by the nickname "Billy Whizz". In April 2017, he was critically injured when he was involved in a collision at Donington Park. Both of his legs were amputated. After treatment and therapy, Monger returned to competition in November 2017. In 2018, Monger was awarded the BBC Sports Personality of the Year Helen Rollason Award for outstanding achievement in the face of adversity. In order to compete in Formula 3 Driving, he and his family had to appeal to the sport's international governing body, the Fédération Internationale de l'Automobile, to change their regulations, as they had restricted disabled drivers from racing single seaters on the grounds of safety: the FIA decided to lift the ban in December 2017, allowing disabled drivers to race appropriately-modified single seaters as long as they could pass safety checks.
Ellie Simmonds – 11/11/1994
'If you've got a disability you're normal – it's just something that is different.'
Eleanor May Simmonds, OBE is a British Paralympian swimmer competing in S6 events. She came to national attention when she competed in the 2008 Summer Paralympics in Beijing, winning two gold medals for Great Britain, despite being the youngest member of the team, at the age of 13. In 2012, she was again selected for the Great Britain squad, this time swimming at a home games in London. She won another two golds in London, including setting a World Record in the 400m freestyle, and a further gold medal at the Rio Paralympics in 2016, this time setting a world record for the 200m medley.